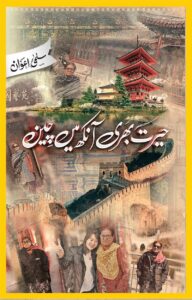 HAIRAT BHARI AANKH MEIN CHEEN
"HAIRAT BHARI AANKH MEIN CHEEN" is an inclusive piece of work. It not only describes Salma Awan's experiences in "China" but also provides the reader an insight into the historical, cultural, social, and literary aspects of China. The script is so captivating and write so impressive that one feels himself in the atmosphere of present and past china. It also introduces you to the livings of common people of Chinese society and tells you about the sufferings and their struggle. It shows the picture of their being blessed. Reader knows about Cultural Revolution, the lives of great leaders, misty poets and their revolutionary poetry, the insight pictures of universities and their systems.
Reading the book one wonders at china airports, The Silk route, Shiyan, Guangzhou, Chengdu, Great Wall of China, Niujie Mosque, Tiananmen Square, Museums, Parks, mosques and famous streets of China, down town of Beijing. While reading all this one forgets to twinkle his eyes.
The travelogue also explores the lives of some of great political and literary icons of China like Sun Yat-sen, Wu Shuqing, Qiu Jin, Hua Mulan, Mao Zedong, Gu Cheng, Xie Ye, Wen Tingyun, Tao Qian, Bai Juyi etc.
To read all reviews click the link below: